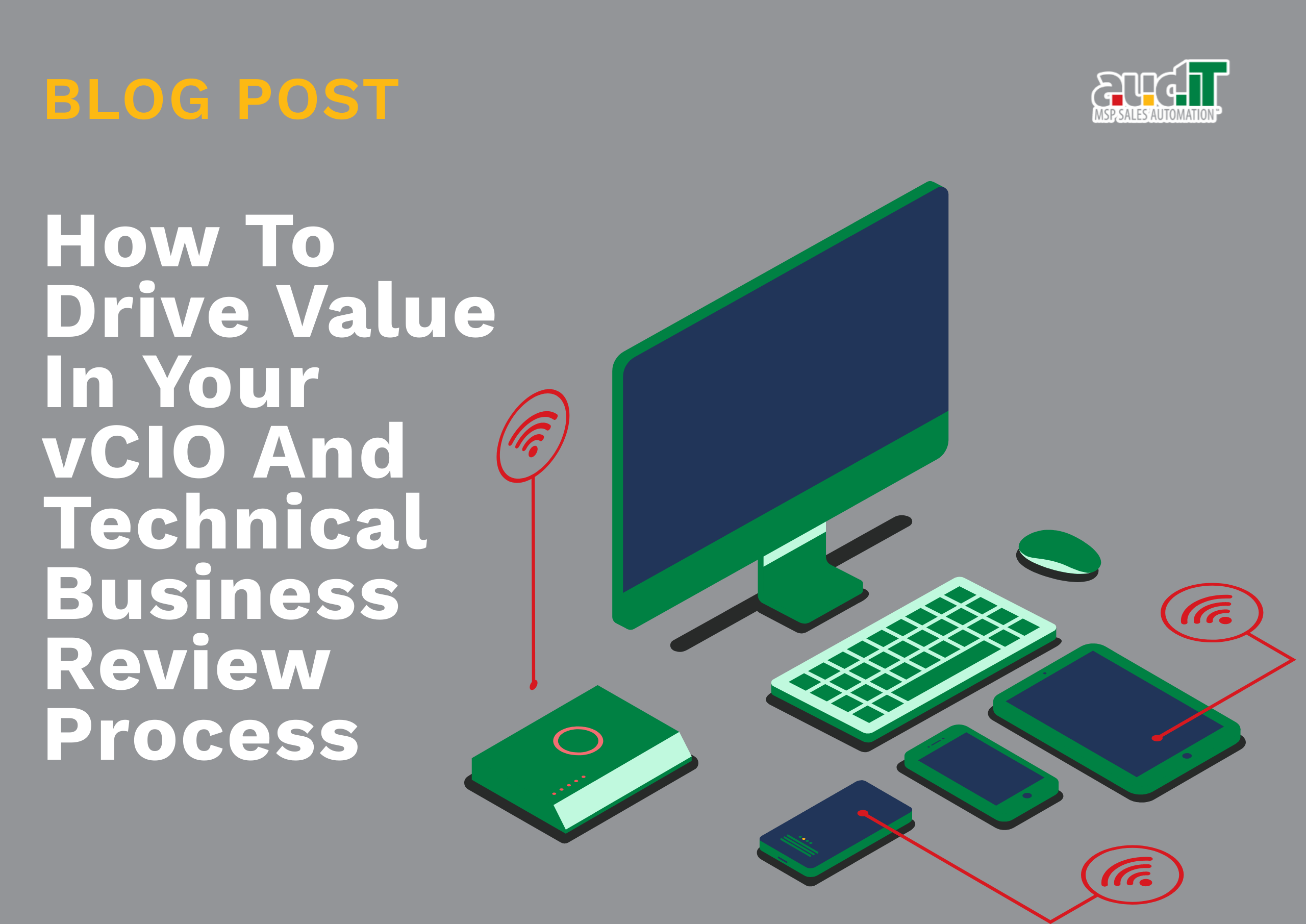 Is your technology delivering value?
This is a question recently addressed in a video designed to demonstrate how this MSP does Technical Business Reviews as part of his vCIO process using audIT.
This video was created by audIT user, Matthew Mulcahy Director of Business Development at ProSource an Orlando, Florida based MSP.
In this video, Matt demonstrates how they use audIT to grade and align technology to strategic objectives.
They serve four primary verticals: manufacturing, healthcare, engineering, and financial services. In the audIT created for a fake prospect, they are using a radiology company as their example.
Watch the full video below
It's not about the technology but how MSP products and services impact the business
The main goal is to demonstrate the business outcomes. Removing the technical jargon and speaking in a language the customer will understand and relating it back to what's important to the business.
For a business, this video does a great job of explaining the value of having an MSP present with an audIT. A business doesn't care about technology. They care about the business outcomes that come because of technology.
Present technical business reviews the way your customer would want
Businesses like the verticals served by ProSource appreciate these types of reports. In a recent conversation I had with Matt, he said: "The trick is to link all the technical jargon to business outcomes. If it's not providing business outcomes, nothing matters."
According to Matt, the tool they were using prior to audIT was too rudimentary for what they were trying to convey. The output was just a polished spreadsheet that Matt says was janky to use.
Makes creating technical business reviews easy for your MSP
It also took him a lot of time to build presentations with their old tool. It wasn't as seamless to build them as audIT is for them. He now has everything templated to make creation as fast and simple as possible.
Matt realized he needed something better when he was going over these reports in the meetings. He could see them losing interest and not engaging. This is the last thing Matt wanted to happen which led him to find audIT.
He summed it up that audIT gets rid of the noise. This allows them to focus on the things that are important.
For an MSP this video really helps show the value of making audIT part of your vCIO and technical business review process as well as using it to sell.
Some key takeaways for MSPs:
ProSource is a mature MSP. They do not offer ala carte services. All their clients buy a complete MSP solution.
This means their clients are not constantly being asked to buy something new. But even more importantly, they are well protected from threats and have all the services to suit their needs.
Because of this, ProSource will naturally appear more expensive when selling. And they are.
"audIT is an important tool that demonstrates the value and business outcomes.", commented Matt in our conversation.
This excellent video produced by Matt was meant specifically for his customers. However, Matt has given me permission to share this with the MSP community.
If you're an MSP, I highly suggest you go back and watch the full video. You'll basically be looking over Matt's shoulder as he shares what audIT is with his customers.
Visit their website to learn more about Matt and ProSource MSP.
See how audIT works
And if you're not an audIT user, make sure to book a demo with us today.