audIT, the SaaS-based sales tool is now part of Kaseya's MSP Enablement Suite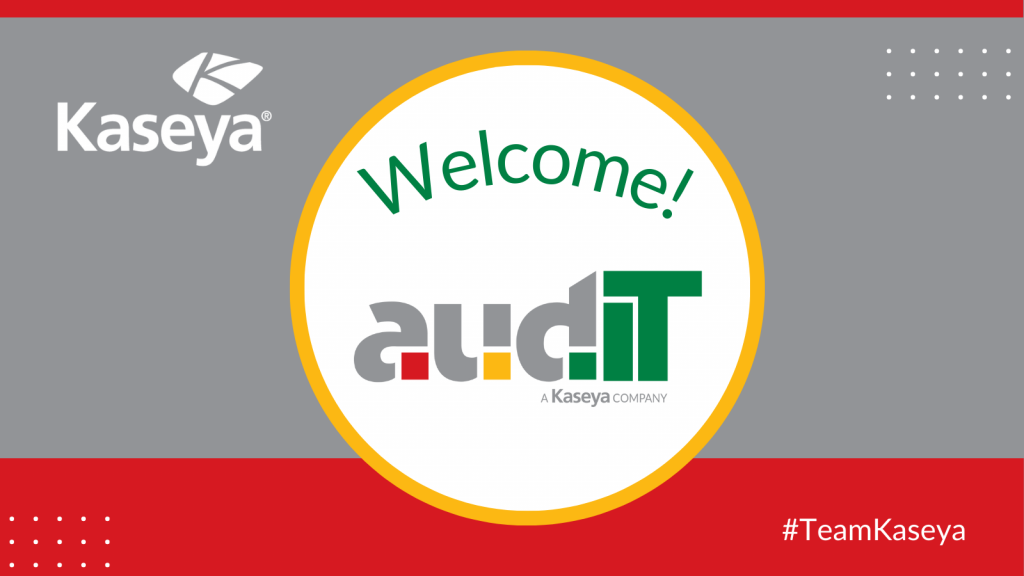 Las Vegas, NV – April 25, 2023 – Kaseya, the leading global provider of unified IT management and security software for managed service providers (MSPs), small to mid-size businesses (SMBs) and mid-market enterprises (MMEs), today announced it has completed the integration of its acquisition of audIT, a SaaS-based sales presentation system that allows MSPs to sell their solutions more easily to the SMB marketplace by offering a fast way to create a simple, engaging, non-technical sales presentation or business review presentation. 
"We want our MSPs to be the most profitable in the market and audIT was a natural fit to start growing our MSP Enablement suite," Kaseya CEO, Fred Voccola, said. "As the owner of an MSP, Frank DeBenedetto, the founder of audIT, has been instrumental in helping us understand what the market needs. We're super pumped to be able to give our customers more ways to close deals and increase profitability."  
On average, it takes MSPs about 4-6 hours to create sales presentations. With audIT, a sales presentation can be assembled in about 30 minutes. Additionally, it eliminates the technical jargon that typically turns prospects away and provides a high-level summary that captures where they are now along with a score on a scale from 1 to 100. The summary statements help MSPs get to the bottom line for each audIT item to help them make the case to customers and close the deal.   
Kaseya will be giving all MSPs a free copy of audIT to help them learn the software, get better at selling, and use that to propel their MSP to the next level.
Here's what current customers have to say about the solution: 
"audIT has empowered me to craft compelling sales presentations that are both visual and very customer-friendly," Timothy Guim, CEO of PCH Tech said. "It's super easy to use and a timesaver, and it has allowed us to bring in new customers and increase our monthly recurring revenue. I'm excited to see how Kaseya takes this solution to the next level to help me continue growing my business." 
"Kaseya acquiring audIT – and building meaningful integrations – is great news for the MSP community. The built-in workflows within audIT have been incredibly helpful to our business," said Brian Curtis, President of DominionTech. "We're excited to see that Kaseya is investing more in meaningful technical and commercial integrations between audIT and the Kaseya products we depend on daily." 
"I'm excited for audIT's next chapter with Kaseya. We're ready to help more MSPs become more profitable by simplifying their presentation process to land new business," Frank DeBenedetto said. "Being able to integrate with Kaseya's existing suite of products is only going to make the audIT experience better for our customers."  
Frank DeBenedetto will be continuing at Kaseya as General Manager, MSP Sales Automation. 
AudIT will be hosting a webinar to share details on this exciting new partnership on Wednesday, May 3rd at 1:00pm EST. MSPs can register at http://www.auditforit.com/bettertogether 
audIT is the latest addition to Kaseya's signature platform, IT Complete – a suite of solutions designed to solve MSPs' greatest challenges, which are vendor fatigue, lack of technician efficiency, limited software utilization and budget.