These features result from feedback from the audIT user community. Our development team continues to work hard to improve the audIT experience and make closing more deals/running effective business reviews easier, faster, and more profitable for all users.
Here's a look at all the new features out today:
Summary Statement Screen Changes
The redesigned screen allows you to see all your current Summary Statements and enter new ones while viewing the answers to the Electronic Fact Finder questions you gathered.
This feature puts all the information you need in front of you when you need it most. This will make it even easier to complete your audITs.
This is the first phase of a major redesign to the fact-finding process. This will save time and improve efficiency.
Much more to come in 2023 to speed up this process.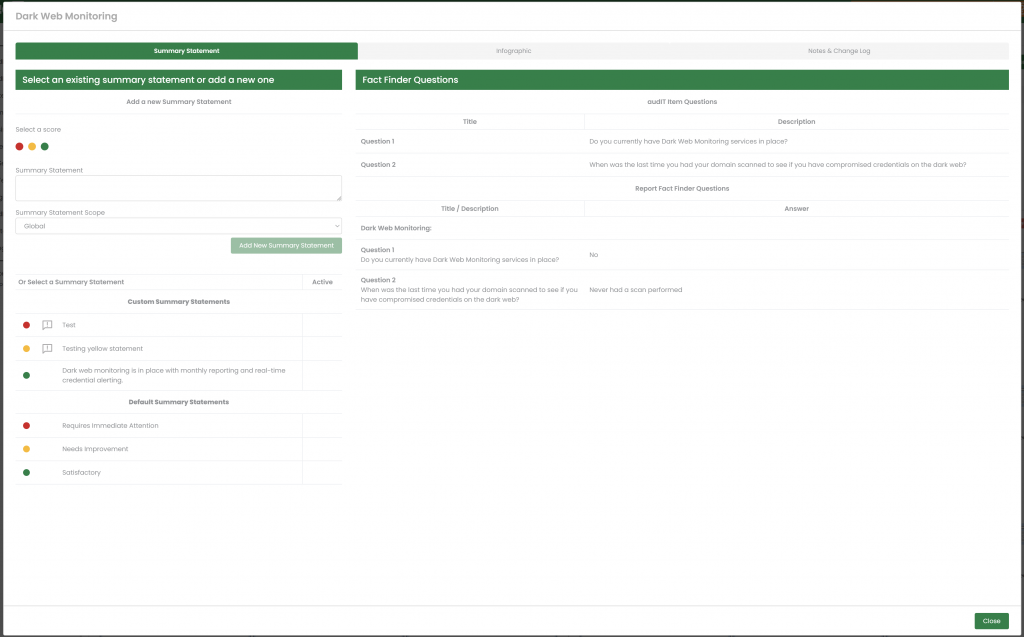 Turn A Completed audIT Report Into A Template
One of the more popular requests has been the ability to clone an audIT report into a template. You now can use audITs you've completed for one customer on any other customer.
Once you've completed an audIT report, simply hit the options button in the audIT trail and select "Create Template". Now you can use this same audIT on any other customer you'd like.

Lock Badge
Over a year ago we released the ability to lock an audIT for a specific customer. This feature was designed to give account admins the power to disallow editing of a past audIT.
This release includes a badge that shows if an audIT has been locked. This will make it much easier to identify these locked audITs before you try to edit them.

Sorting/Filtering Improvements
Making the process of finding the information audIT users need faster and easier continues to be a big priority. This recent release brings a better experience to sorting and filtering in both the audITees and audIT Trail areas.

Streamlined Fact Finder 'audITees' Questions
This feature request is part of the new and improved Fact Finder process.
audITee questions are now contained inside the FF Sections area. The menu bar option, "FF audITees Questions", is no longer needed and has been removed.
You will now be able to turn these questions on or off in your custom Fact Finder Template.
Single Page Application
To improve speed and performance we have moved to a single-page application. Now you can enjoy the ability to utilize the back button, right-click, and open another instance in your browser tab.
There's much more to this new cleaner and easier-to-use interface thanks to the many changes our team has made to the infrastructure of the audIT software.
What's Coming In The Future
There will be another software release next month where we will be providing the following:
Integrations with other software vendors
Marketplace for user collaboration (This has been one of our top user requests)
More Fact Finder enhancements
Updated and New Infographics
Join us in our upcoming live stream (TBA) where we will review all these new features!
For a full detailed list of all release items, visit our Help Center