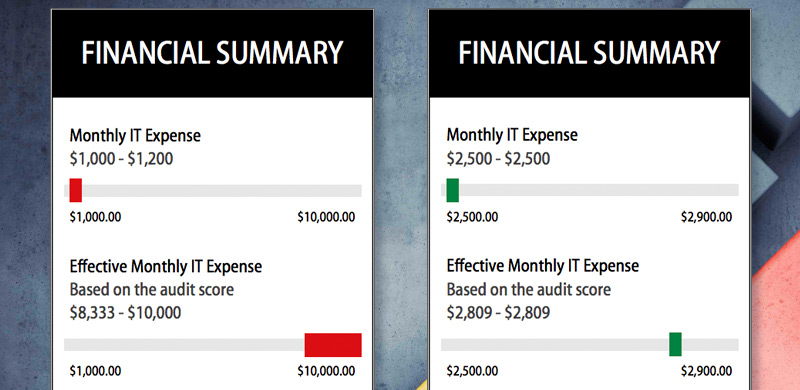 The problem for many IT professionals is that after the prospecting meeting is over, no matter how good a rapport you had with someone or how well your proposal was received, all your prospect has is a bottom line price on a piece of paper. And it's too easy for them to compare your price to any competitor without understanding the true difference in value.
In the end, price too often wins. But price is only an issue in the absence of value.
What if you could prove to your prospects that they're paying more for their IT services than they think they are? And worse, that they're getting less in return than they think they are? What if you could show that the competition's proposal isn't offering the same value that yours is – and you can demonstrate it with hard numbers?
That's exactly what audIT's Effective Monthly Expense is designed to do.
Understanding Effective Monthly Expense
Quite simply, the effective monthly expense is based upon straight line extrapolation. It is calculated by dividing the current monthly expense by the audit score as a percentage.
When you conduct an audit, you'll ask your prospect how much their monthly expense is. Often people are not entirely sure, but they can give you an educated range that you can then enter into your audit.
Using the audit score that is calculated based on the results of your audit, and the range you entered, we calculate what your prospect is effectively spending based on a straight line.
For example, let's assume your prospect is spending $2,500 – $3,000 per month and has an audit score of 50.
Based on a straight line, that's the equivalent of effectively spending $5,000 – $6,000 but only getting 50% of the solution.
This is where people realize that they're spending money every month but not getting much for it. And it's your opportunity to ask if they'd like to see your solution and how it improves the effectiveness of their spend.

Value Trumps Price
In order to accurately compare your prospect's current IT plan to your proposed plan, it's necessary to level the playing field. Your price may be higher, but now you have the tools to show that the money your prospect will spend with you is far more effective.
You can flip this around and ask your prospect, "What if I had a solution that was $2,000, and the good news is that I'm going to give it to you for $1,000. But I'm only going to give you half the services that you need."
By using an effective monthly expense calculation, you can more accurately compare their present plan with your proposed plan based on a level playing field.
The best part is that there is no technical minutia involved. Your prospect can look at their effective spend and immediately understand that they're spending more and getting less.