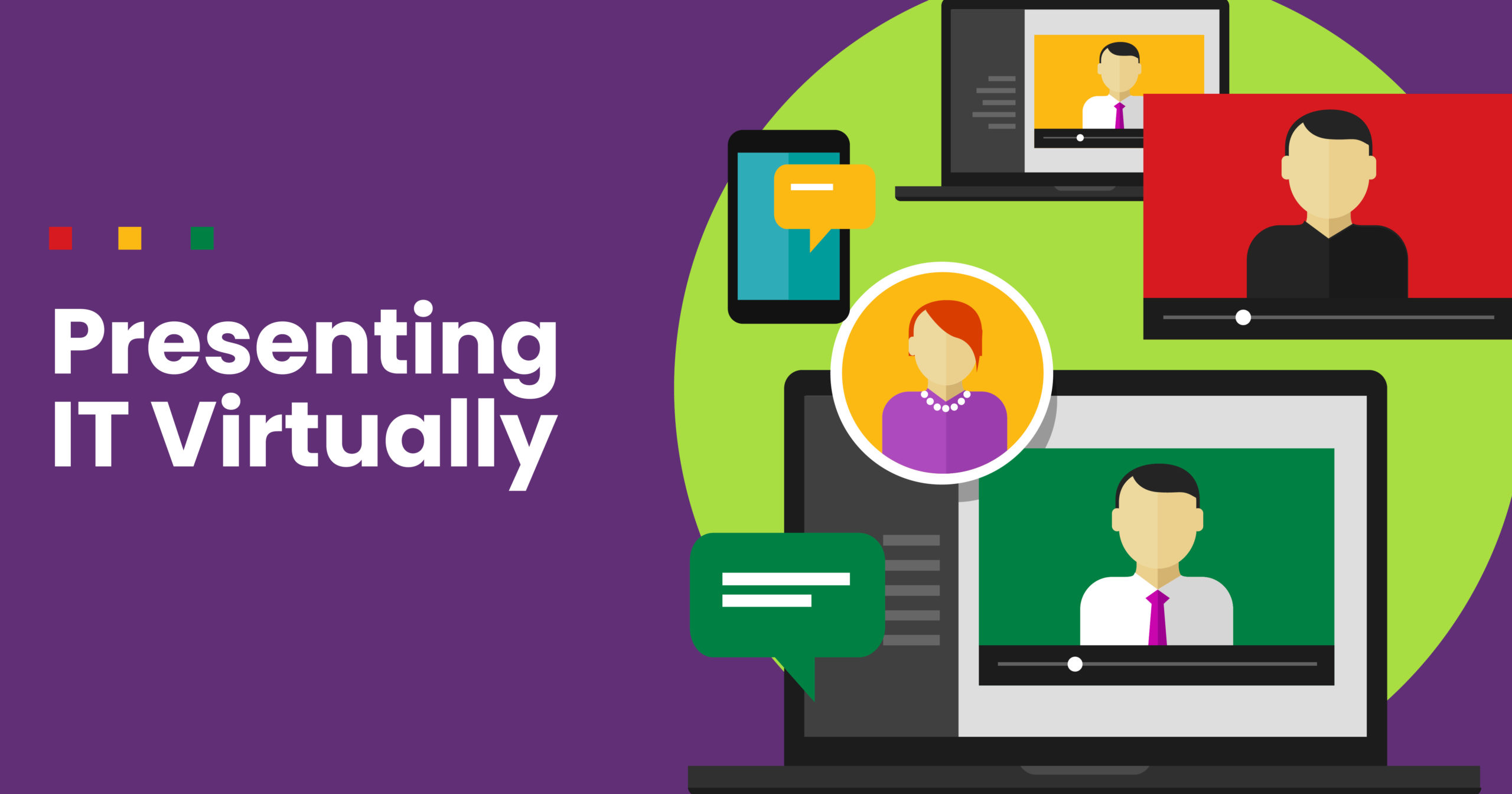 Listen to the podcast episode here
It's a brave new world. And as I write this on June 9th, I doubt I need to explain the details of why and how.
Actually, we (audIT), started talking about this internally back in March. We wanted to make sure nothing would change for our users. That they would be able to present to prospects and clients in QBRs/TBRs the same way whether in person or not.
Covid-19 changed the way we all do business in a blink. And, for many, there may be no going back to the old way of doing things. At least not all the way back…
One of the things that's changed is how MSPs will present. Whether it's a sale to a new prospect or a QBR/TBR/Business Reviews to an existing client.
Many of your prospects and clients will expect you to present virtually. And if you're not prepared for it and really good at it, you're going to be at a competitive disadvantage. So, in this article, I am going to share my best tips to help you nail your next virtual presentation.
Now, the great news is, audIT makes presenting virtually, very easy. In fact, with audIT, you have the same powerful sales presentation available however you present. And it's even more impactful in a virtual environment as it makes up for what we lose by not being face to face. It really lets you put a powerful best foot forward to presenting professionally.
Watch the video here:
Preparation
You want to have decent bandwidth. Make sure you check your internet speed as Zoom is a hog.
Plan everything. Practice what you will be doing.
Make sure your material is set and guests, if any, are prepped.
Turn off all distractions that ding or pop up in the middle of things.
Test sound, camera and any other equipment before you go live.
Camera and Setup
Using the camera on your computer, is just fine. Make sure it's at eye level even if you need to stack books on your desk to put your laptop on.
What you want to do is be sure your head is almost at the top of the frame. Eyes are at camera level.
Standing or sitting is fine to do. Standing is usually for typical talking head video while an in-person sales or client meeting, sitting is pretty normal.
Keep in mind that the way you'd do this in person is what you're trying to replicate.
The Room
Best place is an office with a door that closes. Noisy rooms, like a room with an echo are going to cause problems.
Rooms with lower ceilings, carpet, books and other things like that will absorb echo and help with sound.
If the room has a window or windows, make sure to keep your back to a wall. And even if the room is well lit, I always recommend using lighting.
Natural light changes throughout the day and depending on the weather. So for a consistent look, you want to have lighting like I mention below.
Backdrop
You don't need to invest. But you should have something that looks professional. A wall with pictures can be just fine.
I am not a fan of virtual backgrounds because it can cause too many weird effects. So unless you have really good lighting, have your device the right distance from you so you're not too close and not too far and also have a green screen; I recommend no virtual background.
The best way is to test it. Setup a Zoom meeting for yourself and put on the virtual background. Record yourself talking for 20 minutes or more. Then watch to see how it looks. If it looks good, go for it.
If you want a background perfect for virtual meetings, I recommend looking into anyvoo.com. They make a backdrop that is lightweight and easy to pop up. It's made for presenting on Zoom.
Lighting
If you are in a room with a window and good natural light, that's great. But you never want to sit with the light behind you.
And keep in mind with natural light, it does change. If it gets cloudy or gets dark while you're broadcasting, it will draw attention away from you and your presentation.
I suggest two umbrella lights with 500-watt bulbs. You can find an umbrella lighting set on Amazon for about $60.
I then purchase the 500 watt bulbs from BHphoto.com. If you really want quality video equipment, there's no place better in my opinion.
If you have a low ceiling, I simply like to point mine up. It makes it very easy and limits shadows. This is my recommendation if you're not an expert at lighting.
Otherwise, use the diffuser umbrella and just play with positioning to get it right.
They should be positioned in front of you about 45 degree to right and left.
Sound
This can be fine with internal microphone. However, you do run the risk of echo. There's nothing more jarring to a meeting than bad sound.
I suggest using a good headset or get a microphone that cuts noise like the Blue Yeti.
There is nothing wrong with plugging in a regular headset into your computer and using that. What you really want here is no echo, no overpowering background noises and no feedback.
If you don't use a headset, you run the risk of the person on the other end hearing themselves talking while they are talking. That can really kill the meeting.
One of the big reasons I like the Blue Yeti, is it has the ability to limit background noise. It will only pick up the sound close to it. So it won't pick up the other person speaking from your computer speakers if you don't use a headset.
Be present
Be on camera even if they are not. We're in the relationship business and being onscreen will help you build rapport.
Which also means, dress for the part. If you're selling and working with a client, wear what you'd wear if you were there in person. That's the golden rule.
Be yourself
You don't need to act like anyone but you. Doing a virtual presentation should feel no different than how you do things live except you're on screen.
Don't try to be fake or someone you think you need to be. You just need to be yourself.
It may feel uncomfortable at first. But it will get better the more you do it.
Use quality presentation material
With Zoom, you have the ability to share the screen. If you're selling, you need to have a high-quality presentation that you can share. PowerPoint is really perfect for presenting on Zoom. So whatever material you have, I suggest using that.
This is why audIT developed our PowerPoint version. When you generate your presentation, you can now do it in portrait PDF, landscape PDF and PowerPoint. Present in the PowerPoint version and use the PDFs to email them after the meeting.
Do not change how you present just because you're not in person. You need to maintain the same level of professionalism and use the same process as you have been.
This is why audIT was created. You have, with audIT, a professional sales presentation that works whether in real life or on screen.
Practice
A great presentation will win you sales and more business. It's well worth putting in the time and effort. The more you do it, the better you will get at it.
Turn on a recorder or do it on Zoom by yourself and record it. Then watch it to see what you did right and wrong.
How do you get to Carnegie Hall? Practice, practice, practice!
With audIT and this guide you should be able to present like a pro whether virtually or in person. Have advice of your own? Make sure to share it with us!