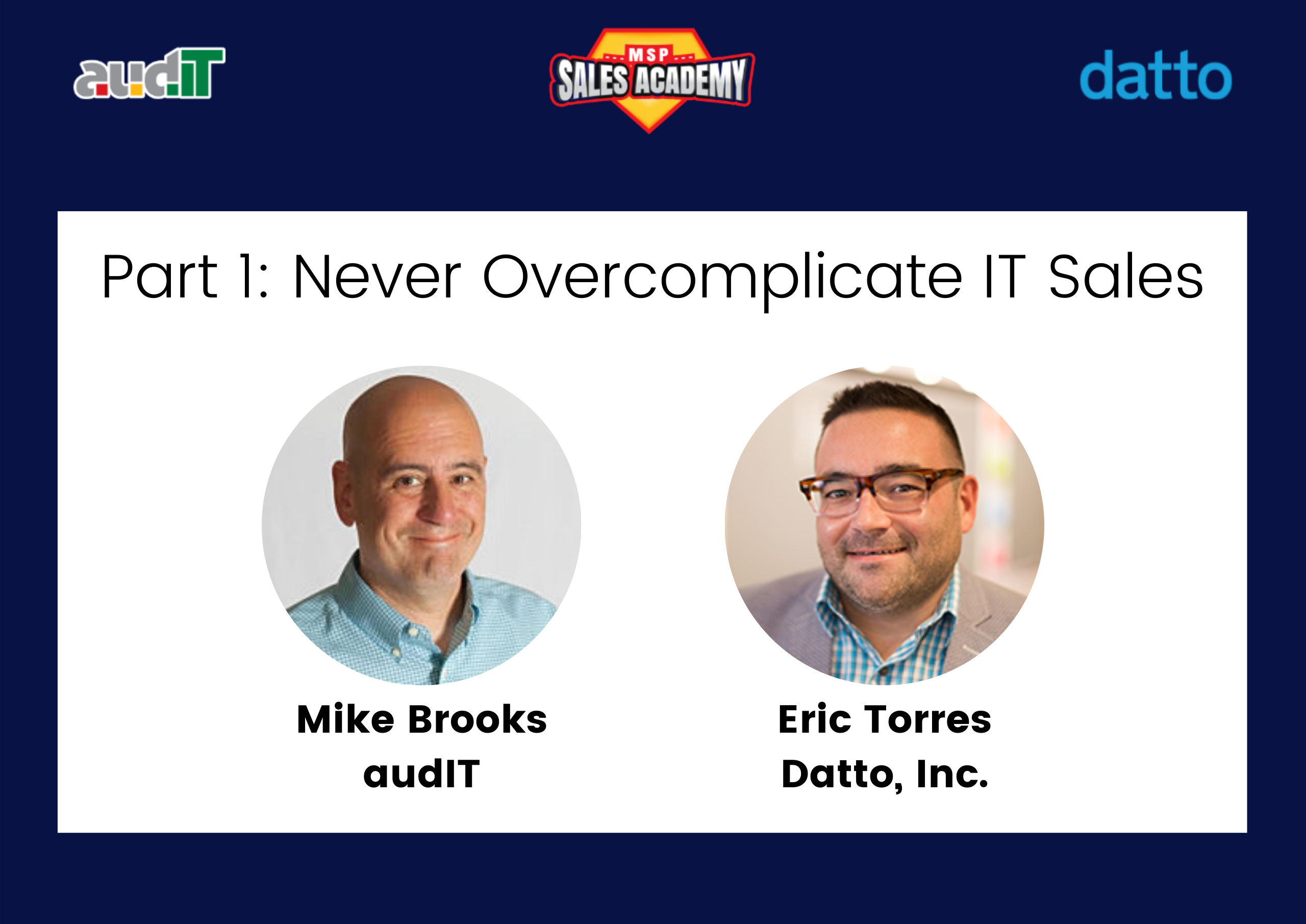 Over the past 4 months now (as I write this on February 1, 2021), Eric Torres from Datto has joined me regularly to film trainings for the MSP Sales Academy. These trainings are often cut into quick and easily consumed videos that are only a few minutes long.
The entire series is jam packed with great sales training that are actionable for anyone in the sales role in their MSP.  This full session is part 1 of two great trainings.
You can listen to the full episode above or on Apple podcast. You can watch the full video below. And here are some short clips to give you some of the key takeaways from part 1.
Clip 1: Are you overcomplicating IT?
The goal of IT sales, the task at hand, is that you have to walk someone through a very complicated technical business decision. But you have to simplify it. You have to make it easy for them.
Clip 2: Why you want to simplify for your prospect
When you walk into a car dealer, you're not looking for them to explain to you how an internal combustion engine works. You're not there to talk about the deep technical details of why an engine works.
Some may want this just like sometimes you may be selling to engineers who want to know about the speeds and feeds. But most times you're talking to a business owner. They don't care about any of that.
What the non-technical buyer does care about when buying a car is convenience, safety, lane assist. Things that matter to the prospect are how we are helping to make their job or life easier.
As Eric points out in this comparison to IT sales; don't get lost in all of the technical details. If you do, you will watch them just glaze over as they tune you out.
Clip 3: They already know you are the expert
When it comes to technology, you are the smartest person in the room. Many MSPs feel the need to drive this home and let their prospects know this. This is a mistake.
You wouldn't be there if they didn't think you were an expert. Your job is not to prove it. It's to help them through the buying process of a very complicated and technical decision they have to make. Simplifying it puts them at ease when going through this process.
Clip 4: A simplified sales process works
It's easy to overload the sales presentation. Once many MSPs put it together, this is where there's a danger of overcomplicating when the goal should be the opposite.
Just like MSPs have a process for how the implement their products and services, Eric has documented everything he's done in the sales process. From the moment they pick up the phone to prospect to the day they cash the check.
Once you document out that process, it's easy to gain the confidence you will need to prove to yourself this works.
Clip 5: If you don't simplify you risk making them feel stupid
Put yourself in the shoes of the business owner. Imagine Joe is the head of a manufacturing company that has a master's in business.
You hit him with some technical acronym or word. He is no idea what it is or means.
Joe very well may be thinking he should know this. Now he's sitting there embarrassed and doesn't ask what it is. This is a very dangerous place to put a buyer into.
More people won't ask you to clarify than do. They will just sit there feeling confused and stupid. This is definitely not the state you want them to be in when selling.
Why you should use audIT
If you're not an audIT user, you should give it a test drive on our free trial. audIT will give you a very simple process to follow and a presentation that is both simple, while being compelling to the prospect.
Coming soon
Here's a quick teaser of what Eric and I will be sharing in this next training session: part 2: Common traits of successful salespeople
Full video training session