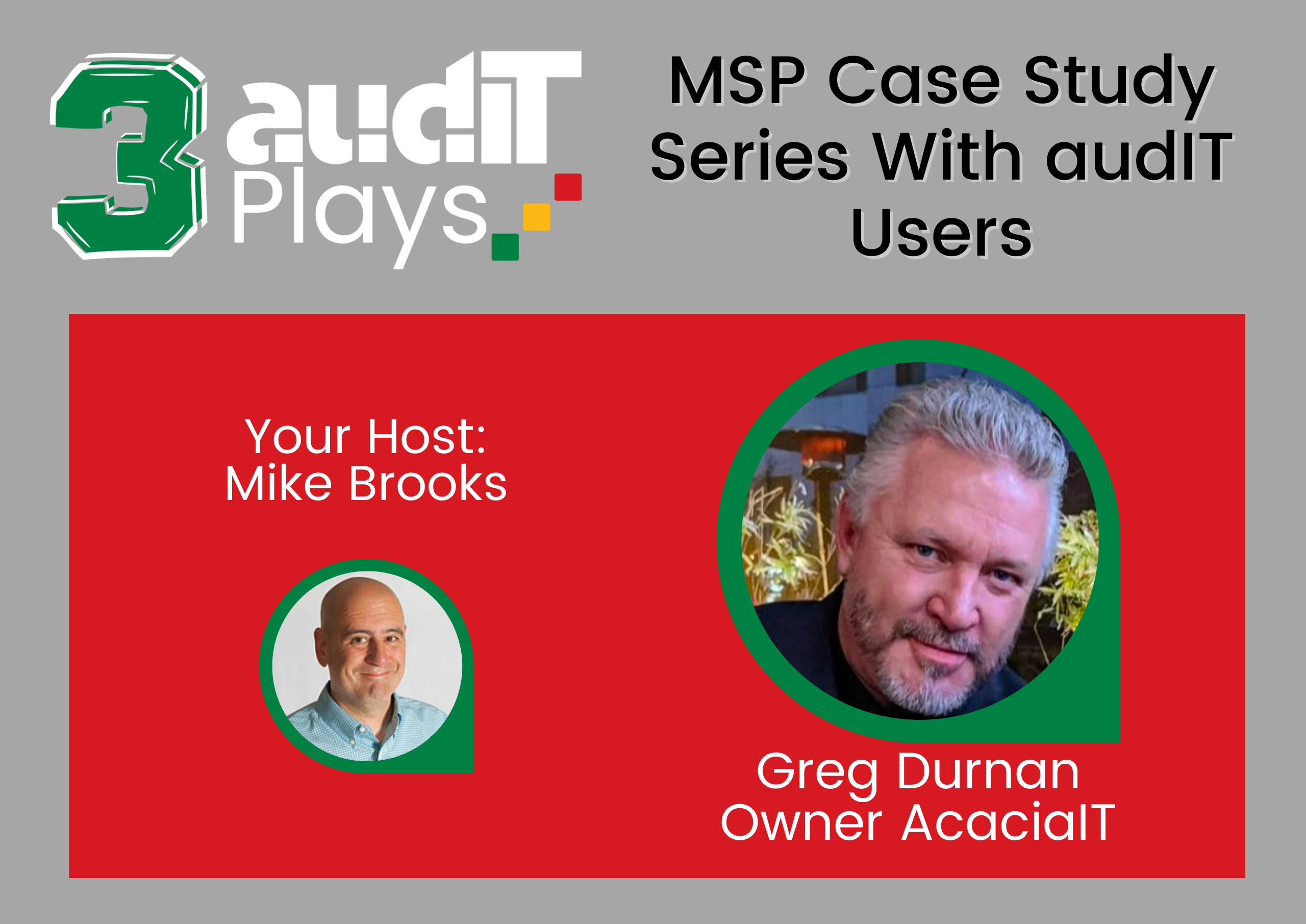 Greg Durnan is the owner of Acacia IT a Tucson Arizona MSP and has been a long time audIT user. In business for 30 years now with 13 employees and one part time phone prospector, Greg has grown a very successful MSP
I was pleased to have Greg as my first guest on a brand-new series called '3 audIT plays'. In this series, audIT users share 3 plays, (tips, tricks, and secrets) they use when selling to prospects or in business reviews with their current clients.
As the owner, Greg is doing all the sales presentations. Any prospect from 10 to 30 computers and he does the entire sales process himself. Larger than that, he brings an engineer to the meeting with him.
He does this for a few interesting reasons. First, while Greg is speaking to the stakeholders about their business and needs, the engineer can walk around and gather all the technical information.
This also plays into size. It helps Greg's MSP look larger than he is. This is especially important as his main competitor has 50 employees and brings in a small army of techs to sales meetings.
Watch the full interview
What problem was Greg having before signing up with audIT?
Greg shares that he tried several of other methods for his sales process. A big problem he faced was installing something on the prospect's system before they are a client. They just don't want that, and Greg is uncomfortable asking them to do that.
He was doing very technical presentations and they just were not resonating with his prospects. He also found he was handing them the same technical document as all the other competitors. There was no differentiation.
What happened after you signed up for audIT?
He was able to easily go from presenting technically to presenting in visual and much simpler to understand way. And the difference, according to Greg, was night and day.
What is life like today after using audIT all this time?
Greg is now closing 2 sales per month. At the halfway point of the year in June, he's already closed 10 sales. And the only reason he isn't doing more is because anything additional would over tax his techs. Otherwise, he'd be closing even more sales.
One of them was a law firm that basically took a chance on his MSP simply because of his presentation. This deal was with a large law firm.
This firm told him they are hiring his MSP despite not having done much with the legal field thanks to his presentation using audIT. This deal alone was $7,000 of MRR.
Play #1 - Always do two meetings for new sales
The first meeting is all about them, the prospect. He doesn't talk about his company at all. He listens to them.
He is doing a technical assessment but focusing also on what their problems, issues and desires are. He not only wants to uncover the technical issues but understand what the business problems are and uncover where this prospect wants to go.
He never talks about price in the first meeting nor is he presenting any results there. Greg stresses this first meeting is all about gathering the technical and business information.
The second meeting is all about what he has found and what he is offering to fix the issues. This is where audIT comes in for Greg because he can visually show this.
He illustrates how he presents by showing them a red or yellow item. He is easily able to relate what they told him as well as what he found back to the visual audIT report. This reminds the prospect why something is red and validates the value of his findings. Then he can show them what it looks like after they fix this issue with his MSP.
If you do this all-in-one meeting it is just too much for the prospect. He also stresses that this cuts out the price shoppers.
When someone asks him during meeting 1 what it will all cost, his answer is value based and shifts focus away from pricing. He tells them he doesn't know because he has to go through all these things that he's trying to understand from meeting 1.
Greg has walked out of a price shopper meeting. The business told him they are doing comparative bids and need to know what it's going to cost.
This company wasn't interested in really fixing their problems or what Greg had to offer. They were just interested in price and being able to then price shop for a better deal. Greg will not even meet with this kind of client. And based on his ability to so easily close deals, he doesn't need to.
For MSPs not yet ready to turn away any possible prospect, Greg recommends the book The Pumpkin Plan by Mike Michalowicz.
Play #2 - Offer a Cyber stack
Greg has a standard Cybersecurity stack that all clients buy into which is reviewed internally each year. When they review it yearly, they look at all the technical security pieces and then decide on what will be added or updated. He then builds out his next year's plan from that review.
He mentions that he's currently looking at adding a SOC service next year, for example. Realizing this will cost a lot of money, he may look at what he can reduce or remove to get this functional.
Prior to the end of the year, he then meets with all his clients and shows them the audIT report with the new red items that represent the new security stack. As the year progresses, the customer will see these reds turn green on their business reviews.
What he loves is that audIT gives him the opportunity to discuss this beforehand. He can show them why they are changing it and ensure the client understands the whole process.
Greg shares that his business reviews are really sales presentations. However, because of audIT, they won't feel like sales presentations to the client. The result is a much easier time getting his clients buying what they need without feeling sold.
In addition, of course Greg can provide the service and protection his customers need without a fight over price. So, they're protected, and he continues to generate more MRR.
Unless Greg sees something security wise that needs him to make an immediate change, he keeps the stack for the entire year. This gives the client a year locked into a price without anything changing.
Greg also mentions he puts an annual increase right into his contracts. So, even without adding new services he increases the price each year by a few percent… Let's call that play 2.5.
Play #3 - Nothing is ever all green
He will always leave some yellow or red on the presentation. He does this in sales and business review meetings. It is very rare that anything will be fully green for any presentation. Because audIT is under his control to make these changes, he has the flexibility to tell the story he wants to.
Something always needs to be noted like a server that may simply be getting older. And even if it doesn't need to be changed right now (maybe it is made to be yellow) he wants to note this early.
Greg feels that if something is all green on a sales presentation it makes it seem unbelievable. If it is all green on a business review, the client is wondering what it is his MSP is doing for them. This is based on the feel he has gotten when things were all green. So, Greg now feels it is important that there is always something red or yellow that needs to be talked about.
This could be a future project or something as simple as they walked by the closet and noticed it's a mess. Maybe that turns into a red to just clean up the wiring.
Greg also stresses it is not a matter of trying to find something that isn't green. There is always something to talk about. He has never been able to sit down at a client and said that everything is perfect.
3 Plays Summary
I want to give another thank you to Greg for being a guest and continuing to offer his advice, feedback and help to audIT whenever asked.
Here's the 3 plays shared by Greg:
Play #1 - Always do two meetings for new sales
Play #2 - Cyber stack
Play #3 - Nothing is ever all green
To book your demo of audIT, just click the big red button at the top of the website. Or click here now.