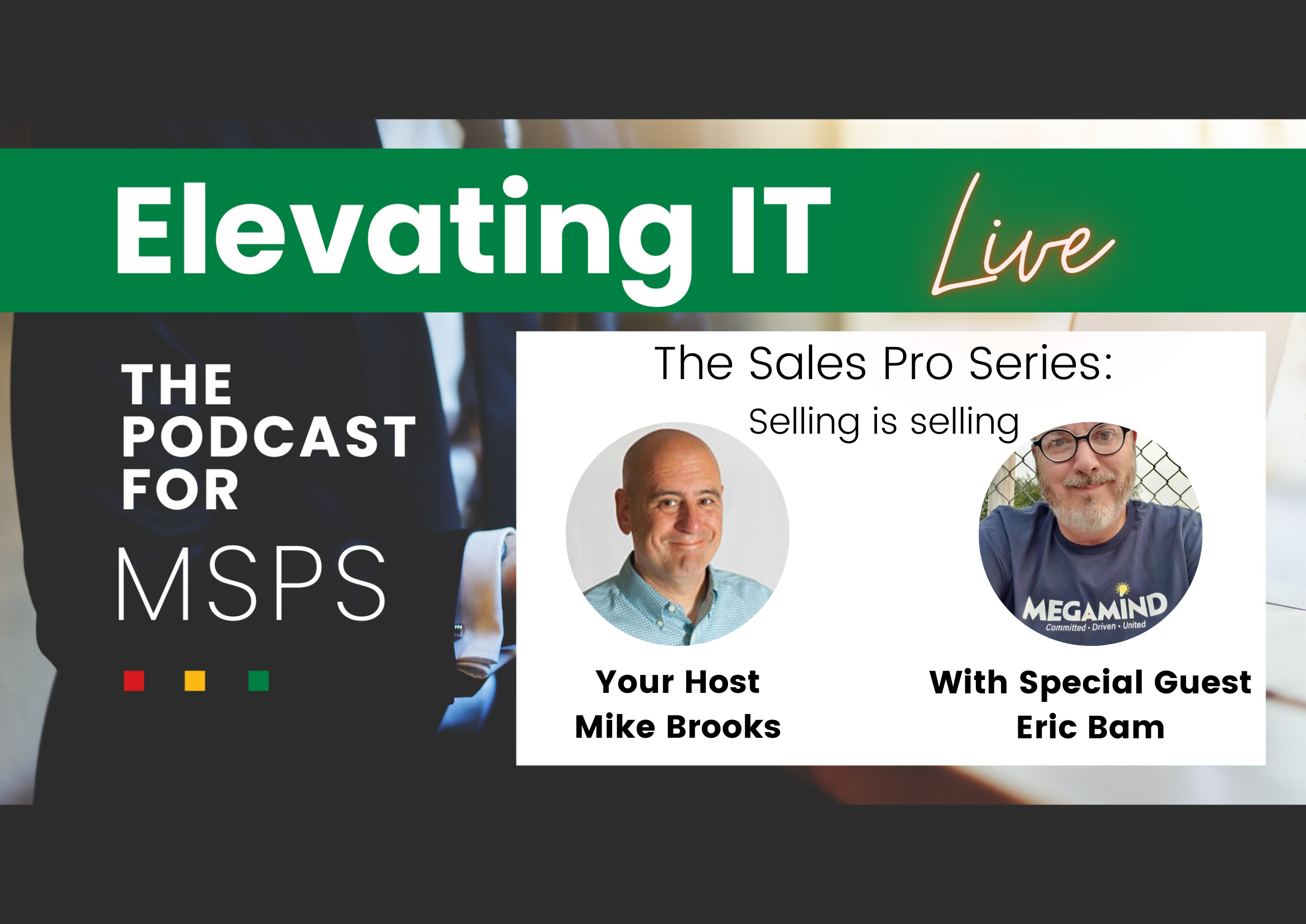 In this episode of the Elevating IT podcast I am joined by Eric Bam who is the VP of Sales and Marketing for Perfect Crust Pizza Liners and IncredibleBags.com.
Eric, obviously, is not in the channel. He is the first of many guests on the podcast to come who are sales professionals outside of the IT industry. The goal is to bring sales pros like Eric who can offer a unique perspective on selling to the channel. And Eric didn't disappoint.
Here are some standout short clips from my interview:
Clip 1: This is what MSPs non-technical prospects and clients want
Do this one simple thing to make sure your prospects and clients understand you when selling and doing business reviews. Eric Bam shared his own non-technical businessperson thoughts on what it's like dealing with an IT expert. And what he says here is what all your non-technical prospects and clients are thinking. Do this for the win!
Clip 2: It's not about the tech
Even something as simple as pizza liners can have technical aspects to the pizza shoppe buying his product. But what Eric does is removes the geek speak as much as possible and talks purely about the value his product provides which is that the pizza won't be soggy when it reaches the customer. That's what his prospects and customers buy. Not the science behind how the thing is made. And Eric happened to drop a really great method he uses for prospecting. It's a quick bit but worth listening to carefully and seeing what idea that may spark for your own prospecting.
Clip 3: Eric's rules for successful social selling
Social selling not working for you? Eric is a master at it. Here's a quick excerpt where Eric gives his 3 steps and a great example of it in action.
Clip 4: Eric's routine for success.
It's pretty simple and Covid has not necessarily changed it much.
Watch the full episode
And make sure to tune in on the audIT Facebook page or YouTube channel to watch these live. Like or subscribe to get notifications when we go live.