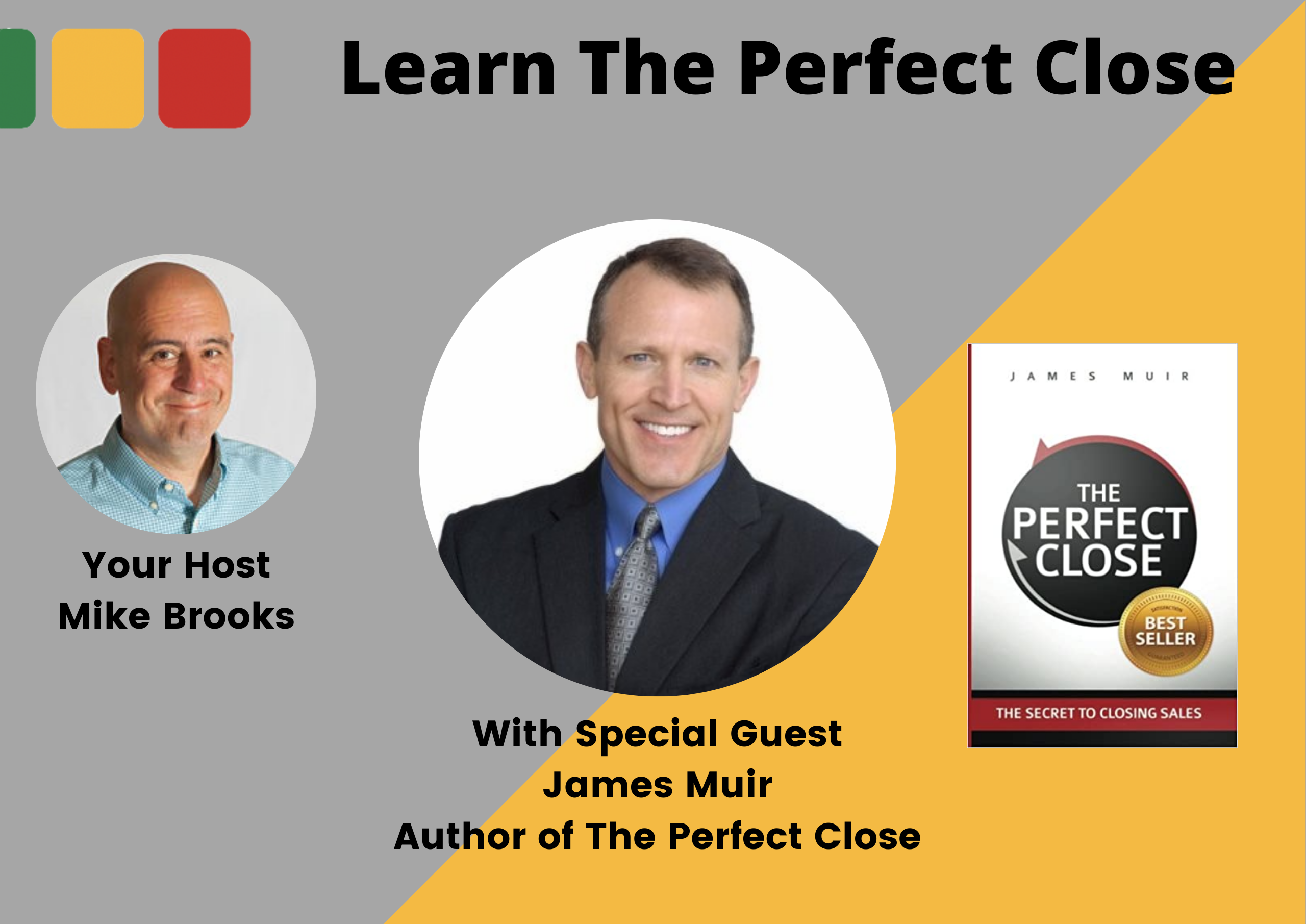 Don't tell my other guests because I love them all. But I have to say this was my favorite interview right here.
First, my guest, James Muir's book The Perfect Close is great and a must own for any salesperson/sales manager. If you're selling IT services, this is the book you need right now.
The book teaches a very simple, two question method for advancing a sale forward. Sometimes that advance is the close. Sometimes it is a next step. But it always moves the sale forward until it closes or results in a lost sale.
What is great about this process is that the sale moves forward towards a goal. You will always know where you stand whether you win or lose the business. And it puts you in the best position to win while not wasting your time if it doesn't have a chance of closing.
These two questions known as The Perfect Close can be learned in about two minutes. The rest of the book gives a solid foundation for running effective sales presentations that always progress towards a close.
Watch 12 of the clips I felt were most insightful and worthy of noting. Or jump to the end of this article to watch the full video interview. You can also listen on your favorite Apple podcast app or with the audio player at the top of this article.
Clip 1: What exactly Is The Perfect Close?
The two questions put you in an emotionally higher level with your customer. They will feel like they're in control of the sales process and think of you as a trusted advisor.
Clip 2: Most sales interactions don't do one important thing
9 out of 10 sales interactions don't end with a win or lose. What should happen is some kind of advance, where the sale moves forward in a little way. Or it ends in a continuation where it may not be dead, but it also is not moving forward.
Before going into a meeting, decide what your ideal advance is. What is the best possible thing that can happen in this meeting? Then you should have a couple of alternative advances in case the ideal advance turns out to be unrealistic for some reason.
Clip 3: It really works
This call analytics company analyzed over 1 million sales calls. They asked what the best closing approach is and found it was The Perfect Close, hands down.
Clip 4: Closing 'gambits' don't work
There is proof now that manipulative closing tactics just don't work. And in many cases, they backfire. The larger and more complex the deal is, the more likely it is to backfire.
Clip 5: James rates my Perfect Close
I used the Perfect Close technique as an audIT user would to convert a prospect into an appointment. Then James rated my 'role play'. See how I did in this clip...
Clip 6: What we really want
The idea may not necessarily be to close the deal. It is really about uncovering the truth not just force them into a 'yes'. It may be about digging a little deeper to learn more.
Clip 7: How to pitch a technical assessment
James explains the process for pitching an MSP prospect. If you watch only one clip of this series, make sure it's this one.
Clip 8: Don't talk tech
Many MSPs like to talk about the speeds and the feeds when selling. But the truth is, the prospect, unless they are very technical themselves, doesn't care.
Here's what they do care about...
Clip 9: Why people decide to make a change
There's a lot of psychology involved in why people do what they do. This clip dives into the reason people are moved to take action and make a change.
I share how this relates to audIT in business reviews. audIT founder Frank M. DeBenedetto has shared this concept many times. James explains how and why it works.
Clip 10: Simplicity in sales
This clip is much longer than what I usually share. But it's well worth your 5 minutes and 22 seconds.
If the prospect or client does not understand what you're saying, you'll do real harm to your chances of closing the sale. Job one is always to keep it simple.
Clip 11: What really matters to non-technical clients
Salespeople tend to fall in love with their own product. And when MSPs do a technical assessment, they will uncover many issues and areas that the prospect should be concerned about.
The problem is the prospect doesn't really care about the details. What they do care about may be one or two key things that have more to do with overall business than the tech.
Do you spend a lot of time talking about your product and services instead of their high-level business needs? Here's why it's a bad idea to do that.
Clip 12: There is no magic button
Everyone wants to make their job easier. A magic or easy button is something we all want.
But be careful what you wish for. If it's too easy, the prospects and clients may not need you, the MSP. James puts it simply in this clip.
Watch the full episode
The full episode is longer than usual but well worth your time investment. There is a lot of sales training packed in this episode. Give it a listen.
Important links
https://puremuir.com/resources
https://www.linkedin.com/in/puremuir/